Create a Yoga and Meditation Sanctuary
Posted by Manifest Dream Team on Friday, February 11, 2022 at 12:00 PM
By Manifest Dream Team / February 11, 2022
Comment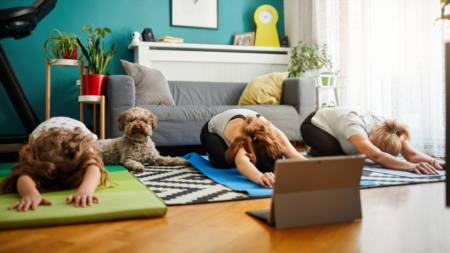 Yoga and meditation have been on the rise in the U.S. for years. Yoga soared in popularity over the course of the COVID-19 pandemic because it's a simple way to ground and center oneself without leaving home. Similarly, many people love peace and calm from simple meditation. But having a distraction-free space in your home is paramount to building a consistent yoga or meditation practice. Here are some tips for creating a sanctuary for your relaxation at home:
Choose a space that facilitates relaxation
When creating a meditation or yoga space, the most important thing is to choose a room or corner where you can avoid interruptions. You want an area away from your family and pets to give the room a sense of calm.
Make it comfortable
Next, make your room comfortable. If you plan to use it for meditation, invest in a comfortable meditation cushion. Or for yoga, get a great yoga mat. You can also decorate the space in colors you find relaxing.
Bring nature in
Plants are a great way to connect with the earth and relax. Your meditation space should have a lot of greenery to surround you when you want to be "in the zone." It's the next best thing to relax out in nature.
Use natural lighting
If you don't have access to a room with lots of windows to let in natural light, consider using other types of diffuse light. You might try sunlamps that give off the same kind of glow as natural sunlight. Or you can use upward-facing lamps to let the light bounce off the ceiling.
Personalize the space
Your meditation or yoga space should feel personal to you. Set up a bookshelf with favorite things like crystals, shells, or decorative sculptures. Add a fountain for the sound of running water. Use soft fabrics and furnishings that you love.
Do you want a private, meditative space in your new home? Call us to learn more today.